Sunday, May 22, 2005
The Small Things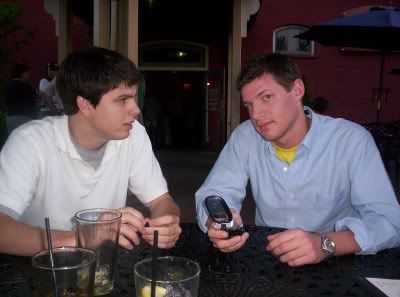 There were so many big events happening on campus during graduation weekend that I'm sure you've already heard all about them by now. If not, you can catch up on the news
here
. Instead, I think that I'll tell you about the small things on campus that I was sure not to miss.

I love sounds. That's why I carry a tape recorder with me most of the time. One of my favorite sounds in the whole world is the sound that is made when you you're walking underneath a covered sidewalk on campus, and you reach up and hit the grey metal pole with your hand. It makes a "ding" sound that is unmistakable. If you've ever walked to the alumni building after lunch on Friday, I'm sure that you know what I'm talking about. I love that sound so much that I wish that I could make that sound the ring on my cellular telephone or the alarm on my alarm clock so that I could wake up to it every morning. So, of course, I made sure that I hit one or two poles during my visit.

I also like the smells on campus. Is it my imagination, or do the yellow carpeted walls in the towers of the FMA have a unique odor. It's almost a metalic smell that makes your teeth hurt. I can't be the only one who's ever noticed this. Anyway, I wouldn't trade that smell for anything in the world. To me it's one of those "comfort smells," like chocolate chip cookies baking in the oven.
Comments:
the only thing better than the metallic smell of the FMA is the smell of the library--damp carpet and paper. It just makes me want to get smarter every time I walk in that building. And the lighting in the library makes me feel like I'm in some sort of 50's Science Fiction movie.
ebr
Post a Comment
<< Home