Wednesday, April 27, 2005
Jonathan Leber
The following article is from
The Washington Times
.
A 20-year-old from Springfield who had hoped to swim in the Olympics was flying a single-engine plane to his college in Wisconsin late Monday night when he ran out of fuel over Lake Michigan. Jonathan Leber, a blond competitive swimmer nicknamed "Ace" who sported a buzz cut, told a 911 dispatcher while sitting on the roof of his sinking plane that he had no flotation device and would try to swim the five miles to land. As of last night, Mr. Leber had not been found, and the Coast Guard had called off its search for him. In his call to the dispatcher, Mr. Leber remained calm. "I need help really fast," he told the dispatcher at 11:45 p.m. "I'm in Lake Michigan. My plane ran out of fuel. ... I'm in the water." He calmly answered questions for about a minute. When the dispatcher asked for his cell-phone number, Mr. Leber's plane had slipped underwater. "I'm in the water," Mr. Leber said. "Help." "Jonathan?" the dispatcher said. "Yeah," Mr. Leber replied. The only noise then was that of water, then a slight groaning noise, and then more water. The call ended with a dial tone. Coast Guard Lt. Rolando Hernandez said Mr. Leber could not have survived more than three hours in the water. On Monday night, the air temperature was 32 degrees and the water was 44 degrees. The wind was blowing 1- to 3-foot waves away from land. "Usually people in good shape don't have that much body fat, which can help insulate you some," Lt. Hernandez said. "My understanding is that he was in very good shape. The temperature in the water is what can really take somebody down." The Coast Guard called off a search for Mr. Leber on Tuesday afternoon after scouring 1,300 square feet with one plane, two helicopters and six boats over 16 hours, Lt. Hernandez said. On Monday night, Mr. Leber was on his way back to school after a weekend visit with friends in New York. He obtained his pilot's license in June 2003. He flew often for pleasure and to obtain credit toward his major of biblical studies and aviation at Maranatha Baptist Bible College in Watertown, Wis. The National Transportation Safety Board is investigating the cause of the crash. Meanwhile, Mr. Leber's family and friends had little energy to search for answers yesterday. They could only grieve the loss of a young man who they say was always smiling and who wanted to become a Christian missionary in South America someday. "He does everything with gusto. He has that spark of life in him," said his father, John Leber, yesterday. "We deal with it moment by moment, hour by hour, day by day. The Lord gives us grace to deal with situations like this, and we rely heavily on his guidance through the Bible to give us the strength to go on," he said. His friends echoed the elder Mr. Leber's sentiments. "It's just a big shock. It makes you numb. ... When it happens, it's almost like you can't believe it's true," said Matt Ledgerwood, Jonathan's close friend at Maranatha. In addition to his parents, Jonathan Leber leaves behind a 17-year-old sister, Danielle. The Lebers ask that all donations in Jonathan's memory be made to Maranatha Baptist Bible College or to the Leber family's church, Fairfax Baptist Temple in Fairfax Station. John Leber, a Baptist preacher, said his son "touched a lot of people's lives. We've gotten calls from as far as New Zealand and around the United States from people who know him and love him." Jonathan Leber swam competitively and also coached youth and high school swim teams in Watertown and in Springfield in the summer. "He wanted to give his life to flying missionaries and being a missionary. That was what he felt God had called him to do and what he enjoyed doing," said Doug Richards, dean of students at Maranatha. Mr. Ledgerwood said Jonathan Leber wanted to work for the Secret Service for a few years before becoming a missionary. "He was fun-loving, very friendly; he knew a ton of people. I've never met anyone with so many contacts," said Mr. Ledgerwood, whom Mr. Leber invited to come along on that flight. "He was a very unique individual, and he was not afraid to be so." Mr. Ledgerwood last saw Jonathan on Friday afternoon in an Old Testament biblical theology class. "He stayed in class, and as soon as it was done, he just jumped up to go to his car," Mr. Ledgerwood said. "I knew he was going to pick up his plane."
Tuesday, April 26, 2005
Maranatha Student In Plane Crash
"Plane Crash Search Halted"
Searchers have stopped looking for a 20 year old pilot who disappeared after his plane crashed into chilly Lake Michigan near Milwaukee. Jonathan Leber of Springfield, Virginia, made a frantic 911 call late last night as his single-engine Piper sank off Cudahy, Wisconsin.
Authorities say the 44-degree water would allow for survival for about four hours. Coast Guard helicopters from air stations in Traverse City and Detroit helped the search.
Leber is a student at Maranatha Baptist Bible College in Watertown, Wisconsin. The college says Leber had gone to New York for the weekend and stopped in Michigan on Sunday before heading back to Wisconsin.
"Lake Being Searched For Pilot"
Boats and aircraft are searching Lake Michigan today for a 19-year-old pilot who ditched his single-engine plane about five miles offshore near Milwaukee.Bosun's Mate Chief Jonathan LeBeau identified the pilot as a student at Maranatha Baptist Bible College in Watertown. He is Jonathan Leber, 19, of Springfield, Va.Darryl Sturgill, assistant to Maranatha President Dr. Dave Jaspers, said Leber, a junior at Maranatha, is majoring in biblical studies and is planning on being an aviation missionary."He is a student in good academic standing and is a person who is a great leader," Sturgill said. "He is also an assistant swim coach at Watertown High School and has a big heart for young people."The plane was headed across the lake when Leber radioed that he was low on fuel at 11:40 p.m. Monday and it went down a short time later, Federal Aviation Administration spokeswoman Elizabeth Isham Cory said.Sturgill said Leber was visiting some friends at Colgate College in Hamilton, N.Y., and was on his way back when the incident took place."The pilot made a 911 call from a cell phone while sitting on top of the plane in the water, but contact with him was then lost," U.S. Coast Guard Petty Officer Guy Gillitzer said.
Leber indicated he had no flotation device and was planning to swim for shore, Coast Guard Lt. j.g. Gabe Somma said.Searchers found nothing in the lake's choppy water by early today, Somma said.He was flying under visual flight rules and had not been required to file a flight plan so it was not immediately known where the flight originated, she said.The craft was registered to Wisconsin Aviation Four Lakes Inc. in Madison.Milwaukee Police Department and Fire Department aided in the search, which included U.S. Coast Guard helicopters and a C-130 from the Canadian Coast Guard in addition to boats on the water, LeBeau said.Sturgill said as of this morning the Coast Guard is searching the area in a 200-mile radius. He added several Maranatha staff members are at the scene today.
Is This a Bad Poll Question?
"Would you support or oppose changing Senate rules to make it easier for the Republicans to confirm Bush's judicial nominees?"
Believe it or not, this was a recent ABC News/Washington Post
poll question
. Could the issue be any more misrepresented? Why didn't they just ask "Would you support or oppose the Republicans having complete, unchecked power in Washington?" It makes me think back to PS202 Experimental Psych with Dr. Gladin and how he spent so much time making sure that our questions were as fair as possible.
Sunday, April 24, 2005
Exam Permits
The ominous exam week is just around the corner, and students should be getting their exam permits in their p.o. boxes anytime now. Of course, we all realize that exam permits are very important, but did you know that I still have 5 of my old exam permits from BJU? Does anyone else have their permits? I just can't get rid of them. They are so special to me - like old friends. Some have marks from being folded in the middle. Some have the letters rubbed off from my nervous, sweaty fingers. Each one of them -green, yellow, white, tan, blue - are well worn. In fact, each permit has its own past. As I look at the blue permit, marked 12/03/97, I can't help but remember Dr. Mazak asking for it before the Counseling Techniques exam. I close my eyes, and I am still sitting there. Lecture B. On the right, near the back. Class has just begun. Dr. Mazak asks us to show our permits to those in front of us, behind us, and beside us on both sides. Out of the corner of my eye, a girl starts to panic. She opens her bag and combs her fingers through a semester's worth of candy wrappers, scantrons, and demerit slips, and some of this actually spills out onto the thinly carpeted floor. After about ten seconds, she retrieves a piece of paper - its not even the correct size or color of the exam permits. Yet she begins the exam - the last exam of the semester. We all begin, and know that moments later we will be walking to chapel - an early chapel. We will hear about mildly amusing bumper stickers and a sobering story about a car crash from the 1980's. I open my eyes. The only sound comes from an early spring Midwestern rain shower outside my window. Mazak is gone. But my exam permits will be safe in a painted recipe box that sits on my desk.

Pastor Marty Minto # 3
An evangelical Christian talk show host in Pittsburgh has been fired after questioning Roman Catholic beliefs and entertaining a caller's question about whether the late Pope John Paul II would go to heaven.
Marty Minto, 39, pastor of Turning Point Community Church, had been a host for three years on WORD-FM.
Minto fielded a question from a caller who asked whether the pope would go to heaven. Minto said he told the caller that whether someone was "born-again" was personal and "between an individual and the Creator."
Minto said he was told he was dismissed for alienating listeners: "As far as I'm concerned, I was doing what I've always done on the radio - look at events around the world from a biblical perspective. I've always been willing to talk about controversial subjects."
Chuck Gratner, general manager of WORD-FM, said the station "needs to function in this city in support of the entire church - that means everybody -and not focus on denominational issues."

- The Associated Press
Sunday, April 17, 2005
Pastor Marty Minto # 2
Brannon Howse from Worldview Weekend wrote an
article
for World Net Daily about Pastor Minto being fired.
Thursday, April 14, 2005
Pastor Marty Minto #1
Death Tax Politics
I've heard of "ripped from the headlines," but this is crazy! Tonight I caught the beginning of a late night episode of The West Wing. Of course, to put it gently, the plots of that show consistently lean to the left. The viewer is always left with the impression that America is always safer with a democrat in the White House. However, I assume that I'm mature enough now to notice and dismiss the obvious liberal themes of the show's
drug-addicted
creator Aaron Sorkin. But as I started watching tonight's episode, I suddenly realized that there was something very bizarre about it. All of the characters are nervously awaiting the arrival of some mystery bill freshly passed by Congress, and after about five minutes we hear the words, "Mr. President, I have House Resolution 10, the Death Tax Elimination Act." The President immediately veto's it, and Josh asks, "Sir, if the House successfully overrides the veto, we're gonna look weak." The President replies, "If the House successfully overrides the veto, we are weak." This is when I roll my eyes. I'm not usually one to believe in conspiracies, but I find it difficult to believe that it's just a coincidence that the real House voted
yesterday
272 to 162 to completely do away with the death tax forever. It just goes to show how thoroughly saturated the entertainment industry is with far left activists. But I've got to admire whoever is in charge of choosing which West Wing reruns to air. Their quick retaliation of propaganda says that some hippie in the control room is really on top of things, and I'll admit that it was the best reality tv that I've seen all year!
Monday, April 11, 2005
Citizens Against Government Waste
A few examples of where your taxes went in the past year:
$350,000 Rock and Roll Hall of Fame in Ohio
$469,000 National Wildlife Turkey Federation in South Carolina
$70,000 Paper Industry Hall of Fame in Wisconsin
http://www.foxnews.com/story/0,2933,152696,00.html
BJU Sacred Art For Downtown Greenville
Friday, April 08, 2005
Spring Pictures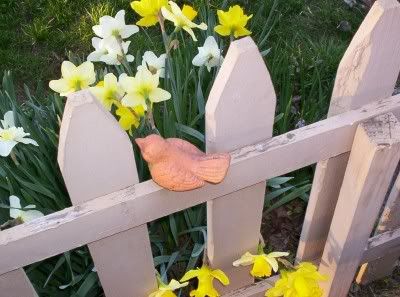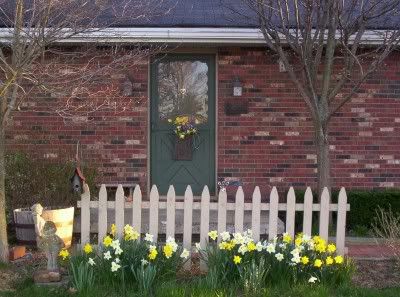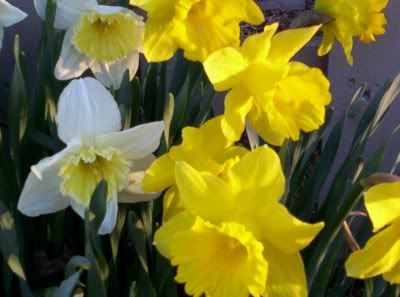 Thursday, April 07, 2005
The Minuteman Project
Wednesday, April 06, 2005
Sandy Burglar
Martha Stewart went to jail for lying to federal investigators. But for lying after stealing highly classified documents from the National Archives -- in an apparent attempt to alter the historical record on terrorism, no less -- former Clinton national security adviser and Kerry campaign adviser Sandy Berger will get a small fine and slap on the wrist . . .
http://washingtontimes.com/op-ed/20050404-084700-5791r.htm
Tuesday, April 05, 2005
Greek Myths Book

I just bought this book at Barnes and Noble. I love it! I only wish that I had known about it before I took Classical and Medieval Literature.
Monday, April 04, 2005
Roche Returns!
The wait is finally over for those of us hoping to hear from former Hillsdale College president George Roche! Evidently, he's been living in a secluded cabin in Colorado for the past five years following the bizarre events that lead to his leaving Hillsdale. Both he and his son "I.V." recently spoke to the Washington Times about what happened and how it affected their lives.
http://washingtontimes.com/national/20050404-124035-3518r.htm