Saturday, February 18, 2006
The Fresh Market
opened its first Ohio store last month. The exterior looks pretty much like the store in Greenville except that the green letters above the store which spell out the name "The Fresh Market" are fairly generic. It's not the store logo that I was expecting. Still, the interior is very much the same. Although the meat counter is more in the center of the store, and there aren't as many regular aisles, the elements that are truly important are there. The baroque string ensemble coming from the ceiling speakers, the smell of something - or many things - baking in a hidden oven, and, of course, the samples of coffee all greeted me upon my arrival.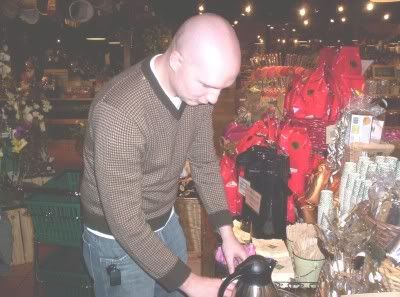 Comments:
"the fresh" (as we call it here in columbus) is great. look at that bald head, that's a head that's about to enjoy the finest coffees. going down great with the pillow cookies... mmmmmm!
(do i have a dent in my forehead?)
good times.
Post a Comment
<< Home