Tuesday, February 21, 2006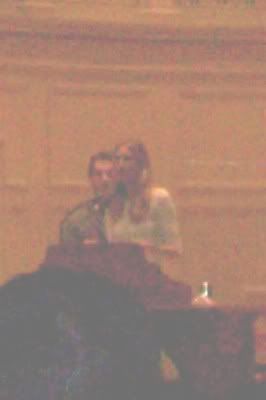 Tonight I heard Ann Coulter speak at Denison University. This event, like many of the conservative activities at Denison, was sponsored by
Young America's Foundation
. It was, by far, the largest turnout that I have ever seen for a speaker there. The chapel where it was held was completely full. Ann spoke for about 30 minutes, and then she took questions for about 15 minutes. During the question and answer time she made it very clear that she is strongly opposed to giving companies from
United Arab Emirates any control over U.S. port facilities.
Comments:
I just want to know why Ann Coulter was given control of U.S. port security in Baltimore, Miami, New York, New Orleans, Philadelphia, and New Jersey!
Ann Coulter is an insult to thinking people. She's the conservative's Al Franken. She tells conservatives exactly what they want to hear without presenting counter-arguments. Liberals may be wrong but they're not stupid. In order to be taken seriously, she should try being more intellectual and less dogmatic.
What's up Buzz? Haven't heard from you in a while.
Post a Comment
<< Home